Description
Great Lakes scenario Introduction:
This is Civilization V (BNW) map and scenario of Great Lakes area between USA and Canada with true location of cities. You will start game almost on the beginning (3500 b.c., classical era) with 3 cities (all level 1), rest of map is revealed.
Scenario is based on real map of area:

Key features:
-Real location of cities
-Natural wonders are placed randomly.
-Randomly placed strategic and luxury resources
Playable civs:
France represented by 3 cities (Montreal, Trois Rivieres, Rimouski) on St.Lawrence River
Shoshone represented by 3 cities (Toronto, Belleville, Kingston) on the north side of Lake Ontario.
Iroquis represented by 3 cities (Buffalo, Rochester, Syracuse) on the south side of Lake Ontario.
England represented by 3 cities (Detroit, Toledo, Cleveland) on the Lake Erie.
America represented by 3 citeis (Chicago, Milwakee, Green Bay) on Michigan Lake.
9 City states
Quebec City, Ottawa, Erie, Pittsburgh, Columbus, Grand Rapids, Sault Ste Marie, Minneapolis, Kansas City.

Screenshots:
St. Lawrence River:

Lake Ontario:

Erie Lake:

Lake Michigan: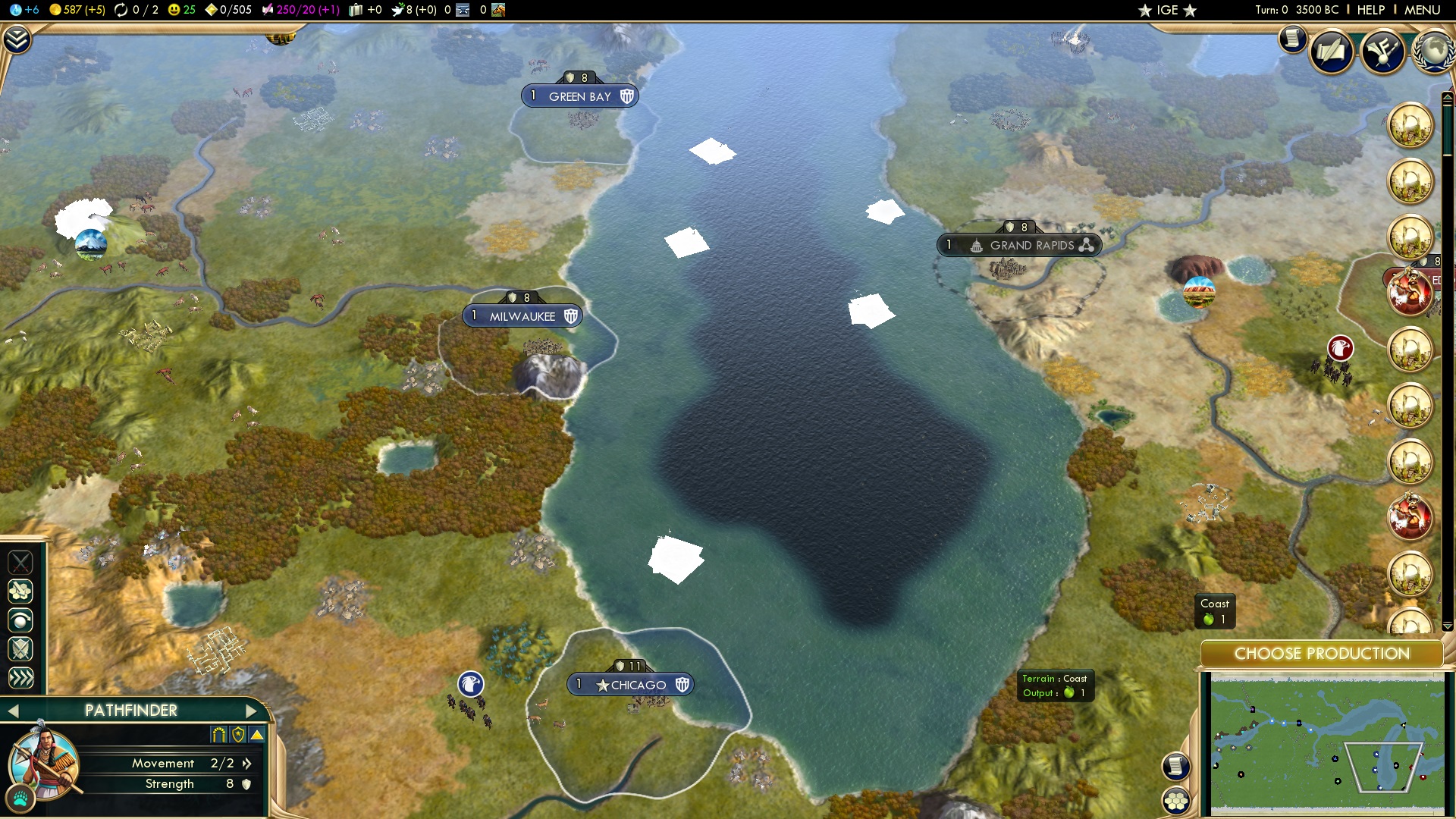 Starting game:
1. Download map file and save it to MAP folder. Usually C:\Users\User\Documents\My Games\Sid Meier's Civilization 5\Maps
2. Start game and select MODS
3. If you want to use some time scenario tick it, otherwise click NEXT
4. Select Custom game, and choose map Great Lakes, don´t forget tick Load scenario
5. Choose leader, difficulty and PLAY
Before downloading this scenario we strongly recommend read our Terms of use !